Moderators: carolilly, tatibsblp, Jenna, Janine, Marta, Ice_Angel_69
Go Go Gala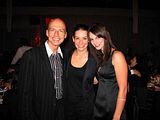 Scott Fifer, Evangeline Lilly and Doria Anselmo
from
Go Campaign
ETA:they are for last year.
nothing from this year event.
my agency seems like they didn´t coverage the event.
damn you Wire, You need me in LA

---
Posts: 770
Joined: Mon Feb 25, 2008 5:20 pm
That was from Last year-- I posted it on twitter and someone told me the group of photos was from a year ago. I guess we didn't know about the appearance she made then
I love my life.
---
yeah I got the notification on another E-mail.

---
Thank you though.

I've never seen this picture so it is a first for me.
"Interplanetary Ninja Assassin"
---
Posts: 2611
Joined: Fri Sep 08, 2006 9:32 pm
Location: Tied to a tree in the Jungle of Mystery
yeah that pic is from last years event. I posted it in the rare pics thread a
few months ago
.
---
well it isn´t rare anymore...

---
Who is online
Users browsing this forum: No registered users and 0 guests