Moderators: carolilly, tatibsblp, Jenna, Janine, Marta, Ice_Angel_69
Lost stars and lovebirds Evangeline Lilly and Dominic Monaghan enjoy Las Vegas together on Friday night (July 10) with Dominic's parents, Maureen and Austin.

The couple, who had a very public break-up in 2007, has kept a low-profile since getting back together in 2008. Evangeline, 29, and Dominic, 32, treated his parents to see Cirque du Soleil's The Beatles Love followed by cocktails at The Beatles Revolution Lounge at the Mirage.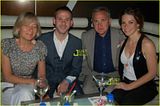 ---
Posts: 2611
Joined: Fri Sep 08, 2006 9:32 pm
Location: Tied to a tree in the Jungle of Mystery
Thanks for the new thread, love what Evi is wearing
---
MONAGHAN TAKES LILLY, PARENTS TO LOVE

Ahh! We can see Charlie, but he's dead. We're just like Hurley. We knew this day would come. (Photo by Ana Drobrijevic)

It was a slow night in Hobbiton, so Dominic Monaghan brought Evangeline Lilly out to see the 7 p.m. show of Love at The Mriage Friday night along with Monaghan's parents from someplace called "Manchester," which we're pretty sure is nowhere near The Shire.

The gang drank Dirty Martinis during the show before going backstage to meet the cast. Although they missed Ryan Philippe coming in for the 9:30. Monaghan and Lilly doubled up on Cirque with a night at O on Saturday — but it got really awkward when four Ringwraiths were at the same performance.
---
Thanks!
Haha "complace called Manchester"
I'd love to have seen that show, Cirque Du Soleil + The Beatles = <3 They should show it in Liverpool too!
---
Posts: 770
Joined: Mon Feb 25, 2008 5:20 pm
AW! It's the first time they have willingly taken a picture with each other in FOREVER. Hahaha Dom looks so dorky in the second pic.
I love those two.
I love my life.
---
Posts: 2611
Joined: Fri Sep 08, 2006 9:32 pm
Location: Tied to a tree in the Jungle of Mystery
Love the 2nd pic, thanks for posting Elms
---
Posts: 937
Joined: Mon Jul 02, 2007 8:05 am
Location: I'm totaly lost
i havents seen neither of them..but they aresoo cute!!!first time taking pictures together!!!LETS CELEBRATE!!
---
haha the pictures are great
Icons by Seçil || Check out my website: {
Evangeline-Style.Org
}
---
I love what she is wearing and so awesome they let the photographer take a pic of them TOGETHER

---
another pic
the article about it at Evi sightings thread

---
haha those guys are cool
Icons by Seçil || Check out my website: {
Evangeline-Style.Org
}
---
Haha I love that picture! Tis too funny
---
Who is online
Users browsing this forum: No registered users and 0 guests